Russian upper house approves use of military force in Ukraine
By Tom Watkins, Laura Smith-Spark. and Ingrid Formanek, CNN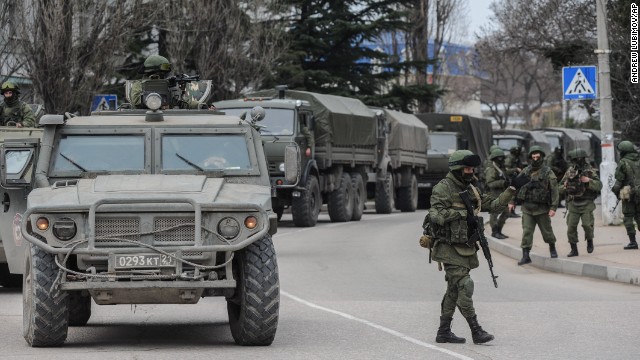 Troops stand guard in Balaklava, Crimea, on Saturday, March 1. Ukraine suspects Russia of sending new troops into Crimea and provoking separatist tensions in the region. Crimea is an autonomous republic of Ukraine with an ethnic Russian majority. It's the last large bastion of opposition to Ukraine's new political leadership after President Viktor Yanukovych's ouster.
STORY HIGHLIGHTS
NEW: "Impose those consequences without further delay," Sen. McCain demands of Obama
Russia's upper house approves sending of Russian troops into Crimea
Ukrainian official: 300 gunmen in Russian uniforms trying to seize a coast guard site
Scuffles break out in eastern city of Kharkiv between pro-Russian, pro-EU protesters
Simferopol, Ukraine (CNN) — Russia's upper house of Parliament voted unanimously Saturday to approve sending Russian military forces into Ukraine, amid mounting tensions in the country's Crimea region and in defiance of warnings from Western powers.